The Beginning: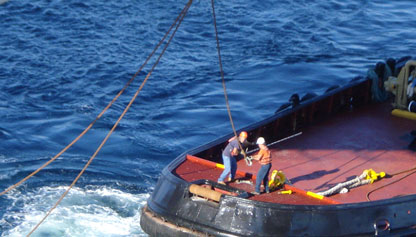 Offshore Towing has always valued Health, Safety and Environmental issues as the first step to accomplishing its primary objectives. Because of Offshore Towing's composition, a safety committee was formed in 2001 to address these elements. The Committee was composed of:
Chairman: OTI Representative
Committee Member: Global Towing, Inc. Representative
Committee Member: Third Party Professional Company
The composition of this committee was designed so that an entire library of knowledge and ideas could be used to establish Health Safety and Environmental practices that would benefit all of the employees who worked for this group. Maintenance on equipment was also discussed in this committee, which lead to the next phase of development for this committee.
The Metamorphosis:
In 2005, taking into account that HSE policies were established, and understanding and recognizing the need to include other elements, such as maintenance, training, and accountability, and the desire to incorporate legitimate Safety Management Systems (SMS) to assure that common practices were being implemented, applying common elements with common methods of checks and balances, creating a uniform system of operating, relying on genuine auditing to produce certified practices, the Offshore Towing fleet decided that the International Maritime Organization (IMO) possessed the proper vehicle or systems needed to achieve this level of compliance with all of the necessary elements using International Safety Management (ISM) as its foundation.
In 2009, the mandatory practice that ALL COMPANIES and TOWING VESSELS committed to the Offshore Towing Fleet, MUST maintain valid ISM (International Safety Management) certification to retain active status within the fleet, came into effect.
In 2009, Offshore Towing replaced its HSE department with a Compliance Department, and such, redefined the Safety Committee as the Compliance Committee.
Acquiring the Patina:
Understanding that our industry is forever changing and that we must strive to preserve a safe environment for our employees, dependable products and services to our customers, and abide by all regulatory matters for our owners and partners, the actions of this department would be essential to our existence and our future. The basis of our mission statement has been founded on these ideas and principles.
Currently, the Compliance Committee is composed as described below:
Chairman: OTI Rep. Danny Talbot – Compliance Manager
Committee Member: Global Towing, Inc. Representative
Committee Member: Third Party Professional Company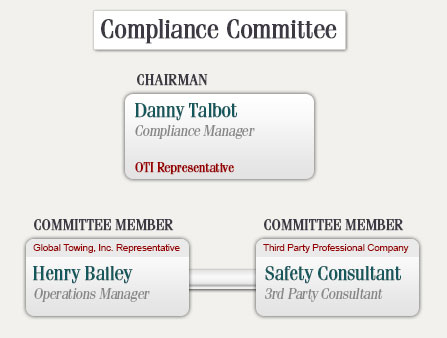 Safety & Certifications
The need to have certified practices were established to create a Quality Management system that would be recognized internationally, as well as domestically. Offshore Towing's Parent Company; Global Towing Services, LLC, maintains a DOC Certificate and ISM Certified Vessels. These certificates certify that the Safety Management System of the company has been audited and complies with the requirements of 33 CFR 96, Subpart B.

What We Do

Offshore Towing is a marine towing company, specializing in moving drilling rigs, towing barges, ocean tows, and servicing drilling and production operations. Our fleet of tugs accommodate most major drilling contractors and operators in the GOM and Bay of Campeche. Our ISM certified equipment encourages our continued success.